News
March 2013
Brighton to celebrate 23rd anniversary of Pride
Is that news? Well, we were concerned last year when Brighton Pride was publicised as the 20th Anniversary...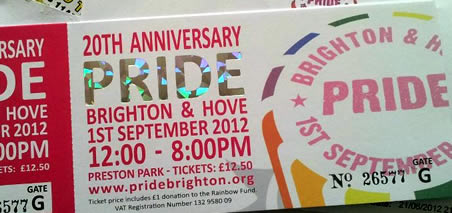 The earliest we have on record took place in 1973, bravely organised by The Sussex Gay Liberation Front...


It wasn't attended well and it took until 1991 for the next Brighton Lesbian and Gay Pride to take place...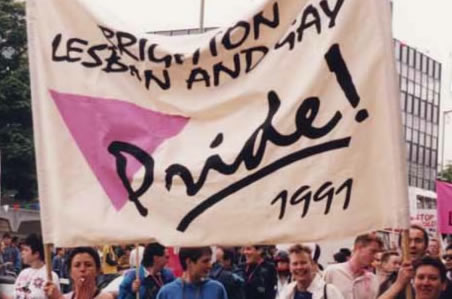 Since then they've been held annually in various forms up to the present day, which meant that 2012 was the 22nd anniversary of Brighton Pride and 2013 set to be the 23rd. Next year the numbers may change - it'll be the 24th anniversary but the 25th birthday, depending on how you count it. Either way we wanted to get the numbers correct asap, but just as importantly recognise the courage and hard work it took to arrange the earliest Prides.

Brighton Pride 2013 is being put together by a new community group headed up by Paul Kemp from Aeon Events, Dulcie Danger and David Hill from E3 Entertainments Group. It's organising a two week Arts & film festival and staging the Pride event in Preston Park on Saturday August 4, 2013.
We're delighted to announce that it took a very short correspondence with Paul Kemp about exactly how many Brighton Prides there have been for him to agree to change all publicity for 2013, which will now be advertised as the 23rd anniversary of Brighton Pride.
In one email Paul said of himself "As a gay man who was at the first event ('91) on the Level (running the dance tent) I really should have picked up on this & I'd like to apologise.
"Having been in Brighton for 30 years this is something I'm passionate about & certainly have a huge amount of respect for the activists that fought for the rights we take for granted today."
So it's a few months off yet but Happy Brighton Pride to one and all, past and present.

---
February 2013
The B.Right.On Festival
Celebrating LGBT History Month 2013
To celebrate LGBT History Month this year there is the month-long B.Right.On Festival, spearheaded by Norfolk poet, artist and campaigner Vince Laws. The festival was launched at Brighton's Jubilee Library on Friday 1 February.
The festival includes:
BANNED display in the Jubilee Library

The Hankie Quilt on display in Brighton Town Hall

Trouser Wearing Characters Rose Collis show at Envy

Random Acts Theatre Company Presents: To Come Out Or Not Come Out

Sit down and talk to a human book at the Human Library event at the Jubilee Library

The 20th Annual Lesbian Lives conference: The Modern Lesbian

Take a queer tour of Brighton and Hove Museum and Art Gallery

Brighton & Hove's Actually Gay Men's Chorus


Frockabilly vintage club night

Duke's At Komedia presents United In Anger: A History of ACT UP

Free banned film screenings in the Jubilee Library

and so much more, seriously there's loads more...

You can find day-by-day listings at the top of the Facebook event page: http://www.facebook.com/events/155902317891774
Here's a few images from the launch event, which included 76 people with the names of 76 countries in which homosexuality is illegal - find out more at www.76crimes.com.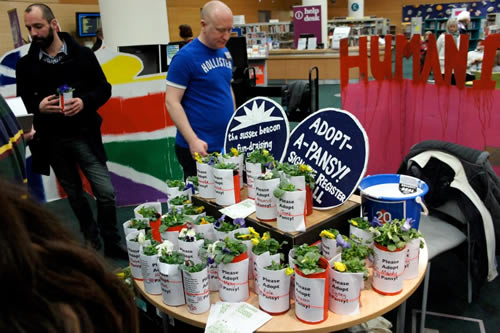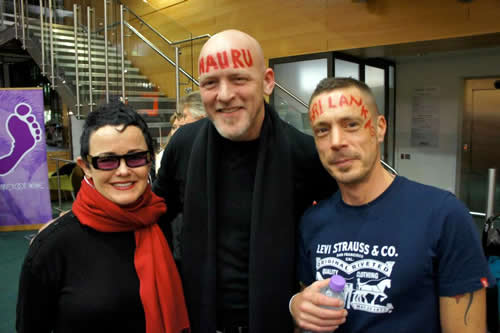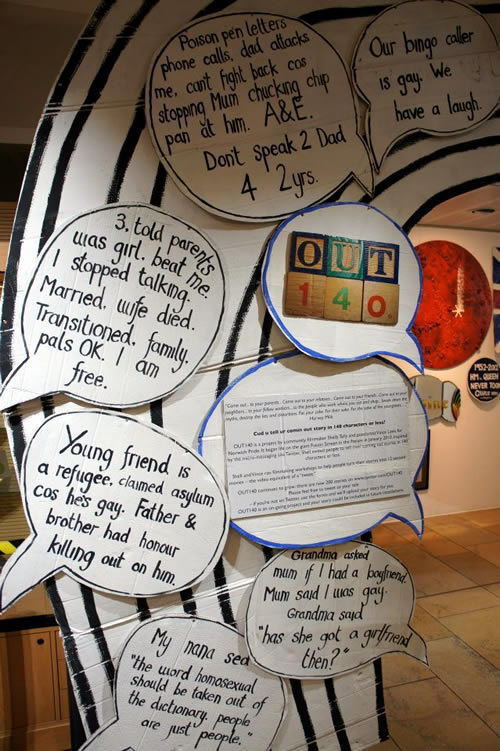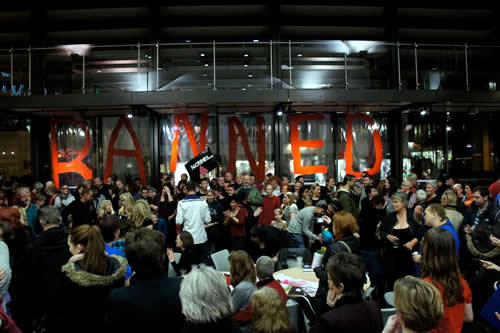 ---
Last year for LGBT History Month Brighton Ourstory produced The Third Sex in the Third Reich exhibition at the Jubilee library.
---
April 2012
My Policeman, and Other Stories...
My Policeman

We were delighted recently to come across a new book by a local author - My Policeman by Bethan Roberts. Bethan lives in Brighton with her family and the book was published in January 2012:
"A tragic tale of loss and thwarted hope set in the repressive society of 1950s Britain."
But there's more, as Bethan says in the credits for the book...
"During the research I read a wonderful collection of first-hand accounts of gay life in 1950s Brighton called Daring Hearts. It was this book that made me want to set the story in the 50s. It led me to other research about the witch hunts against gay men which were conducted in this country during the 50s.
"Peter Wildeblood's brilliant book, Against the Law, is a bracing, moving and utterly unsentimental account of his experiences of being involved in the Montagu trials of 1954 and his subsequent sentence at Wormwood Scrubs, and was a great inspiration for me."
It's a book about two people, Patrick who runs Brighton's Art Gallery and a young school teacher Marion, who are both in love with the same man, a handsome young policeman named Tom Burgess.
To find out more about My Policeman and order yourself a copy go to bethanrobertswriter.co.uk.
Picture: My Policeman by Bethan Roberts
Other Stories: Queering the University Art Collection

In celebration of LGBT History Month, the University of Leeds Art Gallery presents a special exhibition project with new work by Matt Smith.
A display of materials from Special Collections related to Edward Carpenter, Victorian writer, poet and early gay activist is the inspiration for Smith's 'interventions' in the University Art Collection.
Everyday objects are inscribed with stories by different people from the LGBT community, whose experiences shed light on the multiple and varied experiences within the British LGBT community in the past 100 years. These stories offer alternate views of our shared history, and its representation in museums and galleries.
The life stories used by Matt in this exhibition were all from the Brighton Ourstory archive.
The exhibition is on at the University of Leeds 27 February – 5 May 2012.
You can read a review in the Times Higher Education.
Picture: Address Book by Matt Smith