Newsletters
Edward Thompson
Wonderful, Wonderful... Some Memories of Edward Thompson - Issue 11 . Spring 2002
Edward Thompson, who died in September at the age of 84, will be gratefully remembered by many lesbians and gay men who were around in Brighton in the late 1970s and throughout the '80s, for if ever anyone deserved the title 'patron of the arts', it was certainly Edward.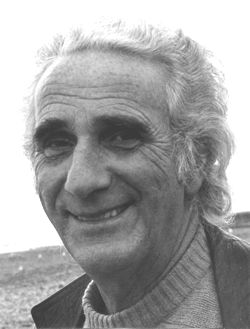 Right: Edward on the beach in 1977
His attractive and spacious flat in Second Avenue, Hove, filled with thousands of books, sculptures and pictures, became a haven for anyone interested in writing or the theatre. Early on he joined organisations such as the (then flourishing) Brighton Campaign for Homosexual Equality (CHE), and later the Gay Community Organisation. Through these organisations he rapidly turned himself into a kind of impresario for Brighton's gay culture.
Passing By
Several of us who had written one-act plays were invited to offer our work and we would then give rehearsed readings in his flat. Sebastian Beaumont, then starting out on his career as a novelist, read a couple of chapters from his first novel. We would also read plays from established playwrights - I remember a stirring performance of Passing By by the gay playwright, Martin Sherman, who is best known for his play, Bent.
Edward spent most of his working life in publishing; he was a director of Heinemann Educational Books and as such in charge of their Drama List. This meant that there was never any shortage of published play texts and on several evenings there were readings of non-gay works by established playwrights.
But the occasion I remember above all was a celebration of the life of Drew Griffith. Drew was the moving force behind the theatre group, Gay Sweatshop - a perceptive director and a brilliant actor. Edward and I had seen some of the Sweatshop productions in London and been enormously impressed; through Brighton CHE we invited the group to stage a performance of As Time Goes By, one of their earliest works, in a little theatre in Air Street in Brighton, now defunct. They played for a couple of nights to packed houses.
Having got to know Drew, we were appalled to hear some years later, in 1984, that he had been violently killed. Edward's idea was that we should put on a 'celebration', remembering Drew's tremendous work for gay theatre. Those of us who knew him spoke about him and we read extracts from his plays; many of our group had never heard of him and it was generally regarded as a most moving occasion.
Unstinting enthusiasm
Edward was never given - as he would be the first to admit - to rigorous intellectual analysis when it came to the theatre; instead he brought unstinting enthusiasm and a passionate love. His favourite exclamation at something he enjoyed was, 'Wonderful, wonderful...' and that serves as well for his own epitaph.
Ted McFadyen