Newsletters
Gateways Club
Are You Butch or Femme? - Issue 13 . Summer 2003
From the Closet to the Screen, Women at the Gateways Club 1945–85 by Jill Gardiner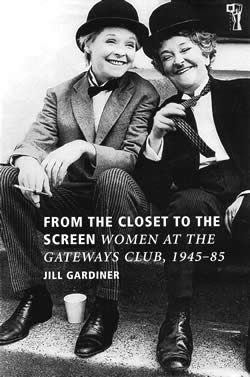 "The old diehard crowd with the Brylcream saw us as an invasion. Their femmes had perms and clip on mumsy earrings, summer dresses and court shoes. They'd say 'What are you ? Are you butch or femme ?'"
Brighton Sue
Over the years lesbian and gay clubs have arrived and vanished with the sidereal rapidity of waves landing on Brighton beach. That this would happen to The Gateways Club, the most famous Chelsea cellar in the lesbian litany, had been inconceivable. But it did. On September 24th 1985 the final strains from the vinyl whirring on the DJ's turntable died away and the lights went out on a chapter of lesbian history which had, amazingly, endured for forty historic years.
Narrative tapestry
Brighton's own Jill Gardiner has compiled a narrative tapestry of eighty recollections from one-time regulars for whom "The Gates" was happy hunting ground, hostelry and home from home. Pasting them liberally upon a rolling diorama of changing fashion and social upheaval she has made more a cinematograph than a book!
Her camera rolls on down the years, silhouetting the formal gents suits, shirts and ties of the 50s, wheeling on through the filming of The Killing of Sister George in the 60s and the brief but deadly blossoming of the jeans and cheesecloth of the casual and gorgeous 70s. Until the final credits in the sadder days of the 80s.
We owe a great debt of gratitude to Jill for her delightfully digestible and at the same time academically precise chronicle of a time that is already in the misty past for new ducklings on the lesbian pond!
Read and enjoy!
Val
The cover of From the Closet to the Screen shows Susannah Yorke and Beryl Reid relaxing outside The Gateways Club during the filming of The Killing of Sister George. Published by Pandora Press and available from all good bookshops and amazon.co.uk.