Newsletters
Queen of Clubs
Homo from Homo - Issue 12 . Winter 2002
From the pages of Gay News, thirty years ago, we discover that the Queen of Clubs was the first Brighton Club to advertise in the hairy press. Peter remembers when he used to live there at about the same time.
Really dreadful
"Ray Jacobs used to own the Queen of Clubs – he had the club for quite some time and then somebody else took it over and it really got down trodden, it was really dreadful. It was a gay girls' club really which you were terrified to go in cause you thought you'd get your throat cut – they were very butch some of the girls that were in there!
And then Tony, who owned the lease of that building, took it over and I took on the basement flat. We changed it all to a gay men's club. I'd met Tony years before – when I first left school, I went to work at Hubbards of Worthing, which was a departmental store. And this Tony came in to look at curtain material and over the curtain material made eyes at me.
Tony gutted the club really and had very little money to do it with. There was a shop in Brighton that was closing down and it was an old fashioned tailor's shop, which had this mahogany fixture – at one time it had been drawers where they used to put all the hats. And the mahogany counters. We took the drawers out and that's where you stacked all your beers and things and this mahogany counter became the bar. We used to go out on Saturday sometimes, round all the junk shops. I remember we found this statue of a nude man, not very well-endowed. By the time we'd finished with him – and some plaster of Paris – he was adequate for the top of the bar!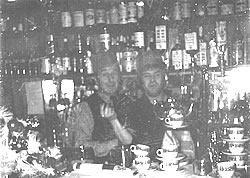 The Queen of Clubs pictured right in the early 1970s.
"We thought there must be a lot of lads that, at Christmas time have got nowhere to go.
So we used to do a Christmas party. It was nothing to do with alcohol, it was just a tea party for the people that were on their own for Christmas Day."
As you went in the door, the bar was to your left and the dance-floor was the front bit, with a juke box in the corner – you had to pay to put the music on to dance to. It was tiny because it was only the ground floor of one of those houses in Bedford Square and it was just two rooms. There was a big coal fire in there and a white fireplace with a big mahogany top. It had this black seating that went all the way round.
Vibrating ceiling
In those days, to stay open later than twelve o' clock, you could have an extension but you had to have a good excuse – you had to be doing something for somebody, raising money for some charity, then you were allowed to have a two o' clock extension. That used to be packed with people like sardines. How the floor stayed up I'll never know because I lived downstairs and if I was going upstairs to do my duty behind the bar and they were dancing, the ceiling used to vibrate and all flop about!"