Newsletters
Sussex Gay Liberation Front
1973: Naughty Schoolboys and Cottaging Crackdown - Issue 14 . Winter 2003
The Sixties were well and truly over, and homosexuality had been legalised for seven years, but Britain was far from laissez-faire about us homos. We've scoured the pages of Gay News from Autumn 1973 to bring you the choicest cuts. From the merits of male secretaries, to a surprising snub by the CHE to Brighton, it all happened as the nights drew in.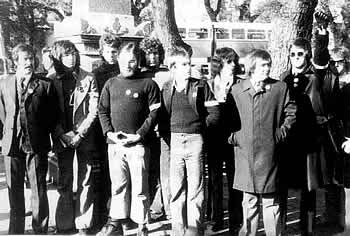 Right: Denied access to the civic ceremony, in November 1973, Gay News reported on the Sussex Gay Liberation Front's own remembrance service held afterwards.
(Contrast this to today where the Lesbian and Gay men of the wars are publically commemorated.)
On a drizzly sunday in November this year, a Brighton Ourstory member was called forth by loudspeakers to lay a wreath at the Old Steine cenotaph commemorating those LGB people who died in the wars.
It was only last year that this level of civic acceptance was granted to our community. Trawling the archives of Gay News we find that thirty years ago, in 1973, members of the Sussex Gay Liberation Front held their own ceremony as the military bands paraded away. A member of The SGLF read aloud: "Gay sisters, gay brothers, we are gathered here to remember the dead of World War II. In doing this, we are conscious that there are those in this society who would prefer to forget that gay people also died." The gay anthem United we Stand was recited as a wreath of pink flowers arranged as a triangle, a reminder of the mark used by the Nazi's for gays, was laid. Ourstory proudly continue this tradition three decades on.
Disappointing demo
The Sussex Gay Liberation Front was in full swing in late 1973. However, not always to great success. A demo in August attracted just 20 people. SGLF spokesperson Graham Phillips blamed the poor turnout on the fear of some LGB people being identified publicly. Graham, however, lashed out at Brighton Council, for refusing to let Sussex Gay Lib use civic property: "This is just the latest example of discrimination," he said. Interestingly, in November 2003, several councillors protested against the present day City Council's refusal to fly the Rainbow Flag on Pride Day.

Right: advertisement in Gay News, November 1973
In the same year national group, the Campaign for Homosexual Equality (CHE) decided to not hold it's conference in Brighton, despite even the Conservative MP's blessing. Instead the charming Cotswolds town of Malvern won the seemingly Olympian feat to host the homos. In true gay style only bitterness was heaped on the winners with John Montgomery saying: "I bet that Malvern, with its rather dreary waters, can't offer anything like the hospitality or understanding of our town." The CHE sensibly decided to hold their 1979 conference in Brighton.
Larking about in Lancing
John Montgomery also had a few things to remark about the antics of local public school boys. Asked by Evelyn Waugh, whom he was literary agent for, whether there was much buggery afoot at his former school John said: "Yes - in all the boarding schools. A few years ago I saw half-a-dozen Lancing boys pick up a group of fellows in a Brighton pub during half term. The school was almost deserted. I was told they entertained their guests in one of the studies."
Cottagers were being regularly dragged before the courts in 1973. Hove television engineer Kevin Henry, 28, admitted the charge and was fined £250. This was considered a staggering amount as the usual fine for toilet shenanigans was rarely more then £100. However, poor Kevin was, as Gay News pointed out a 'three times loser'. SGLF were outraged and suggested a series of measures including "Disco profits should go towards helping people in financial difficulty to pay their fines."
A debate raged about homosexuality and employment. Many recruitment agencies found the idea of gay men attempting to be secretaries all rather distasteful. Not so, however, suggested a letter from Peter R Girling of Horsham in Gay News, a male secretary himself. He canvassed twenty clients in Sussex, seven of which said they would prefer a man as a secretary.
Changing rooms
Norman Redman of Sussex wrote a letter to Gay News explaining how his role as a professional referee was in no way affected by his homosexuality. He said he neither 'hid' nor 'advertised' his gayness: "It seems that the gay person is more accepted in the sports world than any other. My only complaint is that it can be so bloody frustrating in the changing rooms!" Norman was sacked from the FA in 1988 for having HIV.
Christmas is on the way and in 1973 there were festive treats galore. Mark Fleming was in cabaret at the Longbranch Club on the 12th December, while on Christmas Eve the New Curtain Club had a late night extension for the 'Queen of Clubs'. Perhaps the highlight, however, was the annual panto from the Forty-Two club. In aid of the Foredown Hospital, Aladdin is at it again. Boom! Boom ran for seven nights from Dec 2nd at the Wagner Hall, with all performances timed for the last London train.
Benedict