Newsletters
Women doctors
Unveiling Illusion - Issue 12 . Winter 2002
It's a tricky business researching lesbian and gay history. We know that even today many people feel compelled to disguise the nature of their relationships for fear of rejection by family, friends, neighbours, for fear of careers stagnating or of being disinherited or beaten up. So must it have been in bygone decades and centuries.
Anne Marshall has been researching pioneering women doctors and has discovered a rich vein of them in Brighton and Hove in the first half of the twentieth century. Self-declared lesbian, Louisa Martindale is quite well known – she set up in private practice in Brighton in 1906, became school doctor to Brighton High School and Roedean and developed the New Sussex Hospital for Women and Children in Windlesham Road (now sadly being turned into flats). Just before the First World War she met the Hon. Ismay Fitzgerald, who according to Louisa's autobiography, A Woman Surgeon, came for a visit and stayed thirty-five years.
Less straightforward is Dr Helen Boyle, who never wrote her autobiography and who, despite remarkable achievements, too numerous to detail here, has faded from sight. When she arrived in Brighton in 1897, she and her partner, Mabel Jones were the first women doctors to set up in general practice in the district. Three years later she started the first Dispensary for poor women and children in Brighton (at 145, Islingword Road), and soon after founded two small hospitals in ordinary houses, together known as the Lady Chichester. The first of these was revolutionary in offering early – and free – therapy to poor women, who would otherwise end up in the asylum. The second had a medical and surgical focus and was later renamed the New Sussex. All these initiatives instantly had women flocking in, which was a poke in the eye for local male doctors, who'd greeted the women doctors' arrival with scorn. In addition, Dr Boyle founded the National Council for Mental Hygiene, which we now know as MIND.
Choosing not to marry
Anne treads with caution around the issue of whether or not Helen Boyle and her colleagues were lesbians – there were social and demographic reasons why women might have chosen not to marry. There were also good reasons why unmarried women might not have thought of themselves as lesbians. The new science of sexology had produced the stereotypes of 'real lesbian' and 'pseudo-homosexual women'. The real lesbian was supposed to be masculine in both clothes and demeanour and, according to Havelock Ellis, have "an incapacity for needlework and domestic work and a fondness for athletics". The pseudo-homosexual woman, on the other hand had been seduced by the real homosexual, was intellectually inferior to her and was seen to be inadequate in her relationships with men. So a lot of women that we would now consider to be lesbian didn't name themselves at all because they didn't see that they fell into either of these two categories.
Helen Boyle was driven by a conviction that mind, body and social conditions all contributed to a person's state of health. Her 1939 presidential address to the Royal Medico-Psychological Association concluded with a Keynesian quote, in which she exhorted her colleagues to aid in "the assertion of truth, the unveiling of illusion, the dissipation of hate, the enlargement and instruction of men's hearts and minds" (suitably amended in the gender department, this could be Ourstory's mission statement today!) Her leisure time was spent at her cottage in an isolated spot on top of the Downs at Pyecombe, where, according to Anne Marshall she had hordes of visitors. Described by people who worked for her as a very private person, she ordered all her personal papers to be burnt on her death, which occurred in1957, the day after her 88th birthday.
Anne's conclusion, having conducted thorough research, including talking to friends of Helen Boyle and her partners is that she had a series of monogamous relationships.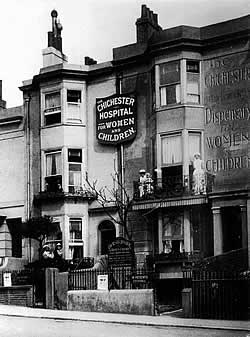 She arrived in Brighton with Mabel Jones, with whom she set up the Dispensary and Lady Chichester Hospital.
The medico-surgical branch of the Lady Chichester Hospital, 4–6, Ditchling Road, c1914.
"[The illness of] the patient who lay for five weeks in the sunniest bay window …could be traced to her weary struggle to make shillings go further than was possible …these five weeks were the happiest and brightest period of her whole life".
Miss A. H. Bennett, English Medical Women.
Photo copyright of The Wellcome Library London
Mabel, just before she met Helen, had been working in Hull under Dr Mary Murdoch (who was definitely a lesbian, identified herself as such and was a lifelong friend of Louisa Martindale.) When she left Brighton in 1910 Mabel is known to have adopted a child with a woman friend. A later partner of Helen's, Cecily Lamorna Hingston, lived during her student days with the first woman stockbroker, Beatrice Gordon Holmes who went by the name of Gordon Holmes and had no problem identifying herself as a 'real lesbian'. Helen spent the last seventeen years of her life with Marguerite du Pre Gore Lindsay who continued to occupy Helen's cottage in Pyecombe until her own death in 1977.
Count Me In
Despite enough circumstantial evidence to send a murderer down for life, there are those who are still, nearly half a century after her death, reluctant to acknowledge the likelihood that she was a lesbian. Helen Boyle talked about "unveiling illusion" and I feel sure that, had she lived in our age – and had she known about the mental strains on LGBT people revealed in the Count Me In survey two years ago – she would have been glad to help out as the courageous, compassionate and wise role model she surely is.
Linda
Grateful thanks to Wendy Walker at East Sussex County Records Office and Dr Louise Westwood at Sussex University for supplying additional information for this article.