Images of Brighton
Permanent exhibition in Brighton Museum & Art Gallery - launched 2002
---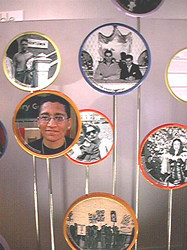 On May 4th 2002, Brighton Museum & Art Gallery reopened after a £10 million redevelopment.
It has transformed itself with a dramatic new light interior, and a complete redisplay of its existing diverse collections. The entrance is now in the Royal Pavilion gardens, and there is a spacious new foyer and shop area, as well as improved disabled access/facilities.
The Museum has been working with community groups to broaden access to its collections and services. One of these groups is us.
Throughout the 'Images of Brighton' and 'Exploring Brighton' galleries, there are quotes from ordinary gay men and lesbians. Not only that but you can also hear such people talking via the listening posts available.

There is even a "Lesbian & Gay Brighton' section in the 'Images of Brighton' Gallery.
Here you will find a selection of queer images over recent decades, (looking strangely like overgrown lollipops - see top photograph), going as far back as the 1950s.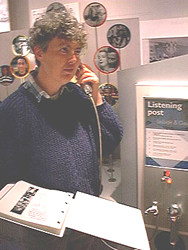 It is also very refreshing to see Brighton & Hove Council begin to accept and appreciate the large numbers of lesbians and gay men who live and love in this city.
If you're at all interested in the lesbian and gay history of Brighton, see the folder of information in the 'Images of Brighton' section, or see it online via the Brighton's history menu option to the left.
To the right here you can see Linda on the listening post at the lunch of the exhibition.