Ourstory's history
Just Take Your Frock Off: A Lesbian Life
A book by Barbara Bell (and Brighton Ourstory Project)
---
The daughter of a mill worker in Lancashire, Barbara Bell had her lesbian 'initiation' the year after Radclyffe Hall's The Well Of Loneliness (1928). Since then, she has never had the time to be lonely.
Her Uncle Jack was the first in a long line of gay men who befriended her - one workmate even taught her about French kissing in the lunchbreaks. But always Barbara was on the look-out for women like herself.
She found them in Girl Guide camps, Paris clubs, Park Lane tea rooms, Hitler's Germany, London in the Blitz, a Watford approved school and a Nigerian village. She had two lesbian 'marriages' but also illicit and delicious little 'flutters'. She was butch in tailored suits and femme in crocheted lace. In a silent world she learned to be discreet but she never turned her back on love.
Living in Brighton in the early sixties, Barbara zoomed round the countryside in a sportscar, counselling heart-broken lesbians. Gay liberation ushered in a world of more freedom than she could ever have imagined when she was young. In her seventies she started 'buddying' men and women with AIDS and wore a red hat to their funerals.
Familiar to viewers of BBC2's It's Not Unusual, Barbara Bell here tells the full story of her extraordinary life and times.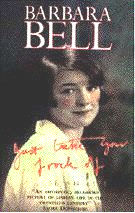 Just Take Your Frock Off
Review in The Guardian on Saturday 24 July 1999:
"Now 84, Barbara Bell is the author of this enchanting memoir. Born in Lancashire, she became a London WPC in 1938 and discovered the pre-war queer underground. Work at modelling agencies and a Nigerian school followed. The lives of "ordinary people" usually make excruciatingly dull reading but this one is a treat: it was transcribed from tape and the editors have wisely let Barbara's charming, anecdotal style shine through. Her many love affairs are recalled with surprising frankness and glee. Who knew that men in postwar London got up to such queer things with Lyons cream buns?"
If you'd like to order a copy of Just Take Your Frock Off: A Lesbian Life by Barbara Bell (and Brighton Ourstory Project):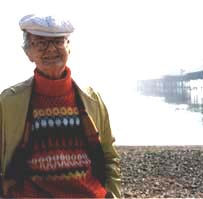 * You can order one direct from Brighton Ourstory, for a mere £7.99, adding £1 for postage and packing. NB cheques should be made payable to Ourstory Books and sent to the usual Brighton Ourstory address.
* Or you can order one from a bookshop (on-line or in-life) quoting the following details:
Title: Just Take Your Frock Off: A Lesbian Life
Authors: Barbara Bell and Brighton Ourstory Project
Publishers: Ourstory Books
Date: June 1999
ISBN: 0953588009
To the right you can see Barbara Bell on Brighton beach in 1999.
Other publications
Ourstory also published 'Daring Hearts: Lesbian and Gay lives of 50s and 60s Brighton' in 1992. It is currently out of print.