Ourstory's history
Promoting Ourselves
Dramatic performance - winter Pride and LGBT History Month 2008
---
In celebration of Brighton winter Pride and the national LGBT history month, Brighton Ourstory are proud to present:
Promoting Ourselves
Wednesday 6 February 8pm
Friends Meeting House
Ship Street
Brighton
A 'bannerama special' show, recalling the fire and passion of Brighton's opposition to the infamous Section 28. Exactly twenty years on from the first historic campaign meeting, we celebrate the powerful presence of protest that erupted onto Brighton's streets and surged into the very heart of local and national politics. A story told by the banners that led the way and those who made, carried and kept them.
Over about an hour, roughly ten banners took their place in the limelight. Each was brought vividly to life through the different stories of peoples experiences of living in Brighton as Section 28 became law, and the years following...
Although it was indeed a trip back to a darker more sinister time, it was also a tale of Brightons lesbian and gay communities bonding against a common enemy, and the beginnings of Pride as we know it today.
The performers were Jane Boston and Tom Sharpstone with Nicky Mitchell providing musical interludes between banners, plus signer Sue McLean making the stories come to life. It was supported by Brighton Pride and Brighton & Hove Local Government branch of Unison.
Below are some photographs from the show but first some feedback.
"Beautifully put together, moving, informative, full of reminders of things
I'd forgotten - a fantastically imaginative use of oral history (I'm a professional oral historian). Brilliant!"

"The format worked really well - it really brought everything alive and made it real. Congratulations!"

"Brilliant to see the original banners and hear the voices of the people who were involved in the demonstrations. Such a rich heritage which could so easily have been lost without the m inistrations of Ourstory - well done!"

"It was very interested and I felt more involved because of sign language. It was lovely presentation."

"As a 'newcomer' to Brighton, it was fascinating and warming to hear of the stories and how Brighton has changed in its attitudes. Funny too!"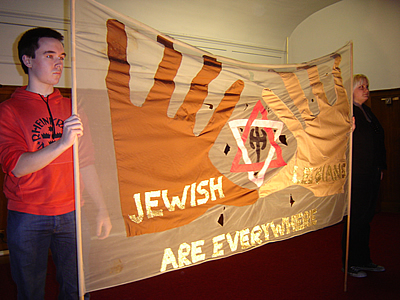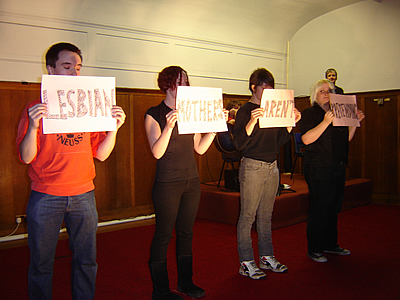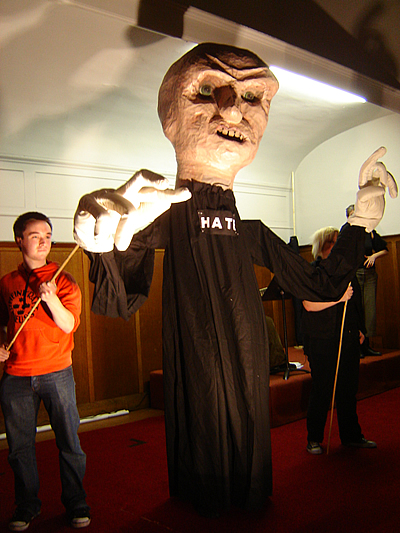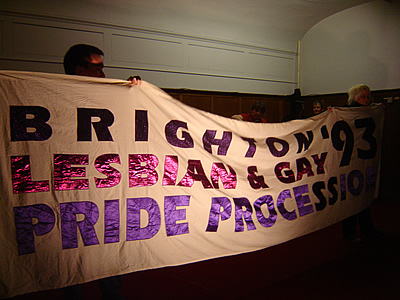 If you like these you can see more photos at realbrighton.com.