Ourstory's history
Stepping into a Storm
Exhibition - Pride 2009
---
Our contribution to the Brighton Pride Festival this year was an exhibition at the Jubilee Library in central Brighton called Stepping into a Storm.
It featured the 1979 national conference of the Campaign for Homosexual Equality that took place at the Dome in Brighton amid a storm of protest from evangelical churchmen. 800 delegates came to the event and on the day the conference opened 20 members of the local clergy published a letter in the Argus newspaper condemning it. Around the fringes of the conference was the Brighton Lesbian Group - less involved with the debates than with having fun on the beach.
It also included a celebration of 40 years since the Stonewall Riots took place, as well as memories of the Sussex Gay Liberation Front.
The exhibition ran: Saturday 25th July - Sunday 2nd August 2009 at Jubilee Library.
Here are a couple of pictures of the exhibition...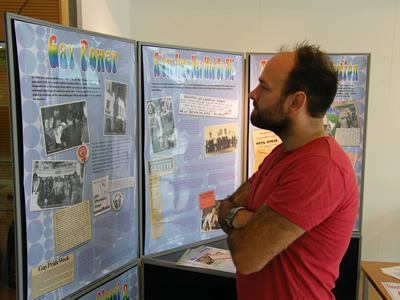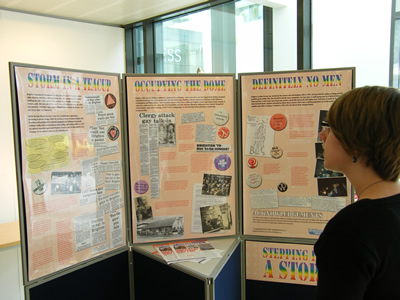 If you like these you can see more photos at realbrighton.com.