Ourstory's history
The Lavender Lounge Bar
LGBT history month event on Friday 26 February 2010 at the Jubilee Library, Brighton.
---
Come and revel in the atmosphere of an old-time queer drinking club, recreated in song and story. Camp crooning, butch ballads, and magical memories evoke that secret underground world of daring and desire for one enchanted evening.
The evening features Trudi Styles, Nicky Mitchell, Lianne Hall, Alexi Chillun, Lavender Lounge piano, DJ Madame Love, Retro 50s bar - The Gin & It.
Jubilee Library in Brighton 7-12pm, £3/free (unwaged).
The floor show will start at 8.45pm. We are delighted to have Len Read, playing smooth nostalgic piano throughout the evening.
Review of the event: Lavender Lounge a resounding success
Over 250 dykes, queer men, drag queens and others filled Brighton's Jubilee Library on 26th February to attend a fitting finale to this year's LGBT history month. Bookcases were pushed back, tables wheeled in and lighting turned low to re-create the Lavender Lounge nightclub from decades back.
Behind the audience, a retro 50s bar, Gin & It, did a roaring trade and came close to drinking Brighton dry of its namesake. On-stage, there were songs aplenty, some from musicians able to remember the old days and some from those not then born. The evening kicked off with Ourstory's cabaret review of times past.
Songs performed by Ritchie Hawker (aka Trudi Styles) and Cat Harding were interspersed with readings from Shanni Collins and Simon Lovat, with Colin Blanchflower at the piano. There were lots of laughs and a large slice of nostalgia but also reminders of how difficult life often was for lesbians and gay men in the recent past.
A big thank you to Nicky Mitchell for making the evening happen, to Brighton & Hove Council for their practical and financial support and to RealBrighton for the photos. You can see some photos below, and follow the link to RealBrighton for more.
Lavender lounge photographs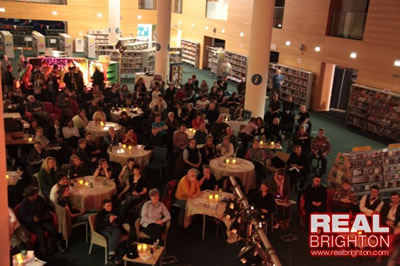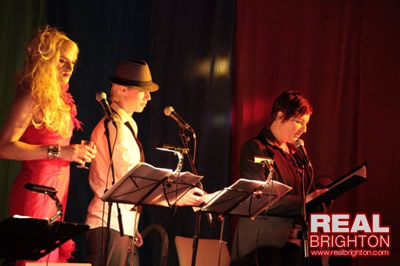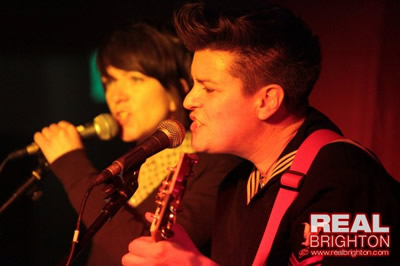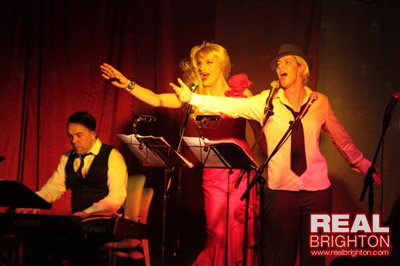 To see more photos, see this story on RealBrighton.com.