Ourstory's history
VG Lee reads from Boys & Girls
Pride event on Saturday 31 July 2010 at Marlborough Theatre.
---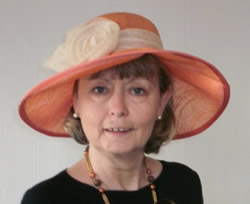 Author and stand-up comic Val 'VG' Lee appeared at a special event organised by Brighton Ourstory at the Marlborough Theatre on Saturday 31 July.
VG Lee has published three novels including 'The Comedienne' and 'Diary of a Provincial Lesbian', plus a collection of short stories, 'As You Step Outside'. As a stand-up comedian she was a finalist in the Hackney Empire's 'New Act of the Year 2010'.
Val read a short story from a new anthology 'Boys & Girls' which has just been published plus extracts from her other novels. The readings were linked by comedy narrative and if you've never seen Val or heard her read, she is truly hilarious.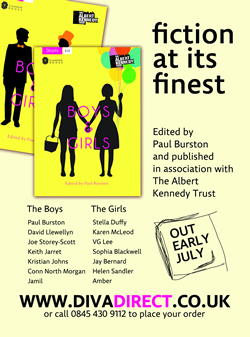 2.45–4pm Saturday 31 July
The Marlborough Theatre
Marlborough
4 Princes Street
Brighton BN2 1RD
Entry £2 for Friends of Brighton Ourstory / £3 for guests, pay on the door.
Please note that as this is an upstairs venue, there is no wheelchair access.
Brighton Ourstory would like to thank the Marlborough Theatre for their generous support in staging this event.
Find out more about VG Lee on her website: www.vglee.co.uk.
Review by Rose Collis
There is a very clever conceit at work in the writing and performing of Hastings-based VG Lee, whose featured in the Brighton Ourstory event on July 31: her gently eccentric persona lulls the audience and reader into a (briefly) false sense of security. But that genteel exterior and manner hides a rapier wit and eagle-eye that keenly observes all the dramas and comedies that humans get themselves tangled up in - including her own. It's the self-deprecation that prevents her work being cruel and merciless; instead, it's chockful of warmth and and wisdom and chuckles a-plenty. Particularly resonant and astute are her observations about the pitfalls and dubious pleasures of internet dating websites, and the inevitably of romantic failure. What makes these tales even funnier is that so many of them are drawn from Val's own experiences: particularly memorable is her tear-inducing story of the ex-girlfriend who, in response to a request for a dance, retorts by reciting (sans music) the lyrics of 'I Will Survive'.
Rxxx
In these grim times, we all need writers and performers who can make us laugh at ourselves and the straits - and straights - we find ourselves facing. With VG Lee, you get two for the price of one - and she's priceless.